Overview Fashion Design Product Development Illustrations About the Authors Testimonials Order Contact Us Home
ILLUSTRATION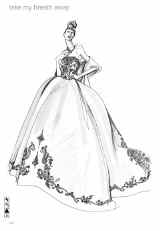 IF approaches illustration in a unique way. By creating a system of icons that are on each and every page, IF explains the proportion of the figure and flats on that page, the media used to render the illustration and the composition of the page itself. These icons can be cross referenced with the key highlighted in the beginning of the book. This results in the student learning not only visually but also through the text. It also means that every single sketch becomes a multi faceted teaching tool that can be picked apart for discussion in the classroom.
§ CHOICE OF MEDIA
§ COMPOSITION
§ ILLUSTRATION STYLE CHOICE
§ LAYERS OF ILLUSTRATION
§ FLATS VS TECHNICAL SKETCHES – THE DIFFERENCES?
§ PROPORTIONS - CROQUIS
§ BREAK DOWN OF THE FIGURE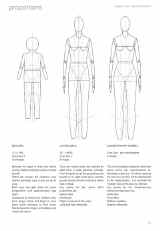 IF includes croquis as a template for flats and technical sketching for the following proportions: Infant, Toddler, Boy/Girl, Junior Girl, Junior Boy/Young Men, Contemporary Women, Contemporary Men, Missy, Traditional Men, Maternity and Plus Size. This is the most comprehensive breakdown of the proportions available and this alone is an invaluable tool to be used throughout the student years and well into ones professional career.
IF presents the pros and cons of working with the following media: pen and ink, markers, color pencil, soft pastel, lead pencil, watercolor and Computer Aided Design (CAD), along with the relationship that these choices have with the end use of the product and the paper quality chosen for the project.
IF has specifically designed each page to be well composed and balanced, and then cross references the composition model chosen for that page. Through osmosis the student will be trained to see the balance that is so important to an effective illustration.
IF includes breakdowns of the figure from the initial "s-curve" through to a fully clothed and rendered model.
IF provides technical sketches and flats for each proportion and specialty area covered. Also included are breakdowns of those technical sketches that reflect their usage for overseas production.
The difference between technical sketching and presentation flats is clear and the ability to cater ones illustration to its end use if of utmost importance.
IF provides the student with "learning pages" to put them inside the mind of the creator. By denoting in call out form the choices being made and why, IF strives not to teach the students how to design, but rather how to think.
INFORMED FASHION IS ABOUT CREATING INTELLIGENT DESIGN!