Overview Fashion Design Product Development Illustrations About the Authors Testimonials Order Contact Us Home
PRODUCT DEVELOPMENT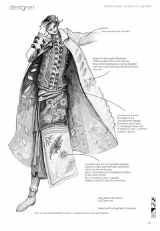 IF introduces each chapter with a comprehensive overview of that market. Covered are the issues at the heart of product development – who is my target customer, what are his/her needs, how do I produce the product and maintain the expected level of quality while increasing both sales and profits for my company? None of these questions can be answered without a true knowledge of the entire production process. A good product manager knows his vendors and his market – a great product manager understands the nuances of design and how fabrics, styling and production methods ultimately affect the bottom line.
§ GROUP DEVELOPMENT
§ COORDINATING MARKETS
§ MARKET BREAKDOWNS
§ EVOLUTION AT A GLANCE
§ HOW TO READ THE "LANGUAGE OF LINE WORK"
§ THE IMPORTANCE OF VISUALS IN A GLOBAL ECONOMY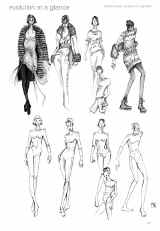 IF dedicates an entire section to the evolutionary nature of design. It focuses not so much on how fashion is continually evolving from season to season, year to year or decade to decade; but rather on how different markets can translate details answering to the specific needs and wants of the target customer. By presenting the Designer, Contemporary, Missy and Juniors market; IF allows the student to see at a glance how the "IF factors" come into play. Each page is further clarified with point form call outs to highlight the thought process behind the design.
IF is packed with images ranging from the highly technical to the purely representative. As a product manager or merchandiser, much of the day will be spent interpreting sketches. Many of the initial concept meetings will be based on visuals, and an ability to understand the shorthand of fashion illustration is just as important to the product team as it is to the design team. A product or brand manager may never have to create a sketch, but knowing how to visualize and read them correctly is a definite competitive advantage.
IF focuses on how detailing can bring a group together. It also explores the effect that detailing has on ease and cost of production.
IF covers many of the specialty markets that are generally overlooked. Included are chapters dealing with: Bridal, Maternity, Lingerie; Swimwear; Leather; Denim and Fully fashioned knits.
IF provides a side by side comparison for the understanding of illustrations and flats and how one relates to the other. By showing the same garment in both forms, the student can train their eyes to visualize flat, one-dimensional images as three dimensional garments.
IF provides the student with "learning pages" to put them inside the mind of the creator. By denoting in call out form the choices being made and why, IF strives not to teach the students how to develop, but rather how to think.
INFORMED FASHION IS ABOUT CREATING INTELLIGENT DESIGN!